Hospital District
Medical Clinic
Doctors' Schedules
Ancillary Services
Contact Us
Notices
After Hours Care
Urgent Care
Lab Services
X-Ray/EKG
Board Certified in Family Practice
Plateau Valley Medical Clinic

Plateau Valley Medical Clinic has two locations where you receive friendly, personal care... from the 2007 Rural Healthcare Excellence Award recipient, Dr. Erika Woodyard, and the 2004 Colorado Family Physician of the Year, Dr. Scott Rollins. Both are Board Certified in Family Practice.


58128 Hwy 330, Collbran, Colorado
just W of the Town limits



11011 Hwy 65, Mesa CO
Turn W off Hwy 65 onto State St
Meet PVMC Staff | View Doctors' schedules | Contact PV Clinic
Meet the Doctors

Dr. Scott Rollins and Dr. Erika Woodyard graduated from the University of Kansas School of Medicine and finished their residency training in Family Practice at St. Mary's Hospital in Grand Junction. The doctors opened their practice in Collbran in 1994 and since then have managed a full service family practice clinic and provided 24/7 on-call coverage.
Both doctors live here in the Plateau Valley. Dr. Woodyard and Dr. Rollins especially enjoy the outdoors, camping, fishing, skiing and hiking. They are shooting and hunting enthusiasts and are active in karate.
Your talented doctors in Collbran & Mesa Colorado at the Plateau Valley Medical Clinic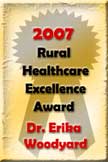 "This prestigious award is given annually to honor someone who has made a notable contribution to health, healthcare, or healthcare delivery system in rural Colorado." Presented by Colorado Rural Health Center to Dr. Erika Woodyard for 2007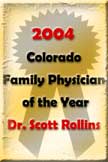 Selected by the Colorado Academy of Family Physicians, Dr. Scott Rollins was awarded the Colorado Physician of the Year in 2004.


Erika is originally from Lawrence, Kansas. She, her husband Lance and daughter Emma, enjoy irrigating and raising hay on their ranch and Erika is a devoted gardener.
Scott hails from the Ozark mountains of Missouri. As a kid he grew up tagging along with his father, a veterinarian, and acquired an interest in science and medicine. Scott is also an avid musician playing guitar and piano with several local groups. His wife, Michele, a teacher, and two boys Wyatt and Max, also love living in the Plateau Valley.
In 2004 Dr. Rollins was chosen for "Colorado Family Physician of the Year". This prestigious award is given annually to only one of over 1800 family physicians. The recipient is chosen by the Board of the Colorado Chapter of the American Academy of Family Physicians. Selection is based on expertise and commitment to family medicine. Dr. Rollins gives credit to his strong partnership, outstanding clinic staff, family, and the support of the Plateau Valley community for their role in helping earn this honor.
Family Practice is a specialty in which doctors are trained to deal with almost anything a patient needs, treating all patients of all ages from newborn children to the elderly. They specialize in wellness physicals (annual checkups) where the objective is to identify diseases or risk factors that are best caught and treated early. They also treat all manner of medical illnesses such as altitude illness, acute infections, high blood pressure, heart disease, diabetes, and skin disorders.
Dr. Rollins and Dr. Woodyard are Board Certified in Family Practice which requires the accumulation of 300 hours of continuing medical education every 6 years and then passing the rigorous "board" exam. This title insures your doctor has continued to learn and keep up to date with the many changes in modern medicine. They have also been certified in Advanced Cardiac Life Support and Advanced Trauma Life Support. With these certifications and years of experience managing trauma and acute heart conditions our physicians are able to provide exceptional emergent care - a necessity in a rural practice.
Dr. Rollins and Dr. Woodyard also have extensive background in Occupational Medicine, caring for work related injuries, and are certified as "preferred providers" with Pinnacol Assurance, Colorado's largest workman's compensation insurance company. Dr. Woodyard continues to work at St. Mary's Occupational Health Clinic in Grand Junction. They also serve as medical directors for Hope West in Plateau Valley and DeBeque.