Hospital District
Medical Clinic
Doctors' Schedules
Ancillary Services
Contact Us
Notices
Chiropractor - Counseling - Hospice & Palliative Care - Massage Therapy - Physical Therapy - Yoga
Plateau Valley Hospital District
Ancillary Services

Hospice & Palliative Care
Hope West serves Mesa, Montrose, Delta and Ouray counties, with the administrative office located in Grand Junction, Colorado. The organization provides comprehensive hospice, palliative care and grief related services to over 7,000 square miles (population 170,000) in Western Colorado through four sites.

Mission: To enhance the quality of life for those facing serious illness and grief.
Hospice Services:
Care at home, nursing home, assisted living facility, or hospital for children or adults with a life-threatening illness
A team of healthcare professionals specially-trained to address physical comfort and pain control, as well as social, emotional and spiritual needs of the patient and family
24-hour on-call service
Medical equipment, supplies and medication
Bereavement counselors to provide grief education and support to the patient's family
Palliative Care Services:
Transitions - symptom management and treatment for those choosing on-going treatment
Expert symptom management by a team of specially-trained doctors, nurses, and other health care providers
Regular visits by a registered nurse to assess the illness, as well as patient and family needs
24-hour telephone consultation
Social work to identify community resources that may be helpful to the patient and/or family
Counseling and education for individuals, families, and caregivers
Volunteer and pastoral care
Chiropractic Services
Appointments are available on the first Friday of each month with Natural Health Chiropractic, Dr. Tony Grotts D.C.
Counseling Services
Juniper West Counseling, by appointment.
Convenient and affordable mental health counseling for all ages, couples, and families!!
Massage Therapy
Emmy Borne, Licensed Massage Therapist, by appointment.
Physical Therapy
Physical therapy is available with Monument Physical Therapy. They treat all musculoskeletal problems and pain, new and old.
Physical therapy can be requested by any patient's primary physician.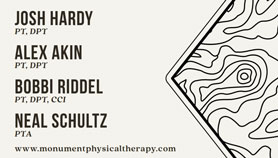 Comprehensive physical therapy evaluation
Corrective exercise prescription
Manual therapy
Functional Dry Needling
Functional capacity evaluation
Pain management modalities
Balance and proprioceptive training
Gait evaluation
Yoga
Yoga classes are held in the conference room twice each week by Everyday Wellness. Wednesdays 5:00-6:30 pm
NOTE: Currently, meetings are via Zoom.
Come stretch your body and mind with Demi!