Plateau Valley Hospital District
1903 The Collbran Congregational Church purchased the grounds and building to meet the maternity needs of women in the rural areas of the Plateau Valley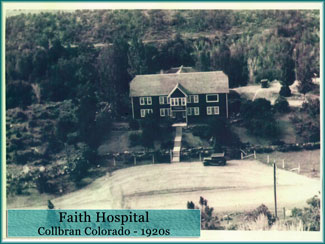 May 8, 1924 Articles of Incorporation to form the Plateau Valley Congregation Hospital Association called Faith Hospital were completed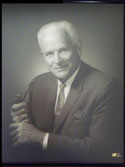 1926-1976 Henry Hall Zeigel, MD, physician to the community for 50 years. Passed away in November of 1976 after having suffered a stroke while documenting patient visits.
Jan. 1, 1949 General Medical and Surgical Hospital--Plateau Valley Congregational Hospital Association -17 beds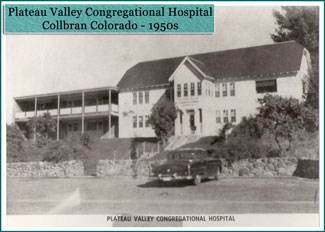 Oct. 26, 1972 The Plateau Valley Hospital District, a political subdivision of the State of Colorado, was formed in District Court in Mesa County in order to receive a $100,000 bond, to construct an 8,000 sq. ft. addition to the existing building for a Hospital suite and 15 additional Nursing Home beds; to levy and collect taxes for bond repayment and to levy and collect taxes for normal operations.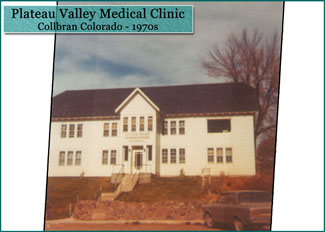 Feb. 1973 Medicare licensed for 8 General Hospital and 11 Intermediate care Nursing Home Beds.
July 4, 1976 The building was dedicated in 1976 and the Nursing Home was occupied in July of 1977.

Nov. 1976 - July 1994 Physician coverage included a rotation of physicians from Grand Junction who gave up days off from their practices to fill a need in our valley; contracts with St. Mary's Family Practice Residency Program for two different time periods; contracts with Community Hospital; and with two physicians who lived in the community, one for eight years and the second for a shorter period of time. The current physicians came to us through the Family Practice Residency Program and have continued a commitment in working with residents in rural areas.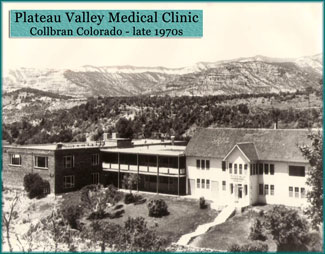 July 1977 26 Medicaid licensed Intermediate care Nursing Home Beds were available to the community
Aug. 1, 1978 No General Hospital License as there was no physician living within the service area.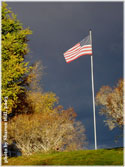 June 17, 1981 One Community Clinic Licensed bed for 72 hour observation.
Completion 1982 A Federal Grant was received from the 1625 Fund (formerly Hill Burton) in order to complete the Medical Clinic and Dietary Departments.
June 17, 1989 Community Clinic License not renewed for lack of 24 hour physician coverage.
Maintained a Medical Clinic with regular office hours and no after hour or weekend coverage.
Jan. 1992 Contracted with two home health agencies to provide home health services with Plateau Valley Hospital District staff.
Jan. 1992 Contracted with Hospice of the Grand Valley to provide Hospice care with Plateau Valley Hospital District staff.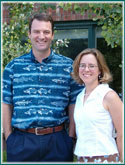 July 1994 Erika Woodyard, MD, and Scott Rollins, MD, moved to our community and shared a full time practice to include after hour and weekend coverage (24 hours a day).
Erika Woodyard, M.D. graduated from the University of Kansas School of medicine in 1991 and finished her residency training in Family Practice at St. Mary's Hospital in Grand Junction. She, along with Dr. Scott Rollins (retired from PV Medical Clinic in 2022) opened their practice in Collbran in 1994. Dr. Woodyard is currently Medical Director for our full service family practice clinic and helps provide 24/7 on-call coverage.
Nov. 8, 1996 Added 2 Intermediate Nursing Home beds, for a total of 28 beds, by remodeling the activity area and moving a doorway to a bathroom. Our census averaged 27 with the addition of the beds.
1997 or thereabouts Grand Valley Hospice contract for staff was cancelled and services provided directly from agency.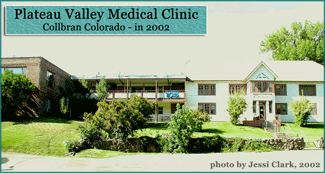 Nov. 1, 2002 Closed the nursing home due to increasing regulations requiring licensed office staff that was unavailable for the wages available.
Dec. 5, 2002 Home Health contracts were discontinued due to financial losses. Home health services continue to be provided in this area through staff being employed directly by the home health agencies.
2003-2006 Medical clinic is accepting new patients
2008 The Mesa Clinic opened three afternoons/week to better serve patients at the west end of the valley. Financial help was received from the Rural Healthcare Initiative grant, El Pomar Foundation grant, Bacon Family grant, Caring for Colorado grant, Encana and Laramie Energy.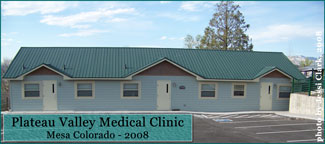 Nov 2008 Dr. Lynda Walters was added to the staff to help cover the Mesa Clinic.  She left in March 2011.
Spring 2010 Both the Collbran and Mesa clinics upgraded to digital X-Ray systems with the help of a USDA grant.
Fall 2011 Construction started on new Collbran Clinic
Feb 2012 Moved into new clinic buiilding in Collbran CO, (1976 addition on west end reserved for ancillary services)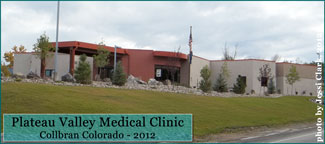 Feb 2012 The District welcomed Dr. Erin Arthur to the practice and increased the hours in Mesa to 2.5 days/week
Sept. 2013 Helen Spence served on the Plateau Valley Hospital District Board from May 1, 1994 - September 8, 2013, and was President of the Board from 2004 until her death. Helen's primary occupation was teaching. In 2004, she retired from the Plateau Valley Elementary School after 35 years, but continued to substitute teach. Helen was also a certified EMT, in charge of the EMS services at the Plateau Valley Fire Protection District's Collbran station. She also tirelessly volunteered at the Grand Mesa Visitor Center and as Volunteer Coordinator and Park Naturalist at Vega State Park.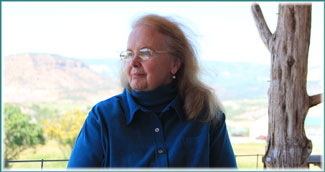 Helen was honored (posthumously) at the annual Special Distric Association Conference in Colorado as 2013 Board Member of the Year. Press Release (pdf file - opens in new window/tab)
Sept 2018 Dr. Erin Arthur left to pursue other opportunities.
Aug. 5, 2019 We welcomed new health care provider, Beth Hedstrom, MSN, AGACNP-BC, FNP-BC.
Dec. 27, 2022 After 28 years serving the Plateau Valley, Dr. Rollins retired from the Plateau Valley Hospital District.
July 31, 2023 We welcomed new health care provider, Deborah Borrego ACNPC-AG, FNP-C.
Present The medical clinics accept new patients who reside in the Plateau Valley