Art © Barbara East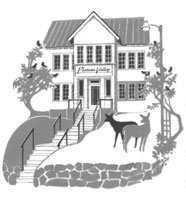 Health Services
Bringing People Together Who Care
Serving Collbran, Mesa, Molina, DeBeque and the Western Slope of CO since 1924
Plateau Valley Hospital District
58128 Hwy 330 Collbran, CO 81624
Plateau Valley Medical Clinic
970-487-3565
Office Hours: M,W-F 8:00-5:00
Tuesdays 7:00-5:00
After Hours: 970-248-0222
Business Office 970-487-0211
| | |
| --- | --- |
| The June 2004 minutes are displayed on this page (in html format) | |
Plateau Valley Hospital District Minutes
June 16, 2004
MEETING CALLED TO ORDER AT 17:25 PM by Helen Spence, President.
BOARD MEMBERS: Helen Spence, Dave Bristol and Bob Wilson. Frank Wagner excused, Clancy Nichols absent.
PVHD STAFF MEMBERS: Dr. Woodyard, Jessi Clark, Rene Castillo, Vicki Benning and Sharon Hill.
GUESTS PRESENT: Teri Styers, Tammy Entwistle, Hank Ward, Joy Currier, Georgia Young and Rick Lucas.
1. TAMMY ENTIWISTLE PRESENTATION:
Vision: The Harvest House
Mission: To provide a home that reestablishes community. A community where struggling women can get a second chance, where young children can receive a healthy beginning, and a place where people can gather for special events. Community not just in the sense of the definition, a group of people living in one place, but a home that would provide a truer feeling of community, warmth, stability and unity.
The Plan:

Phase one: Remodel top floor into a live in residence. Add on a large dining facility and create a commercial kitchen. Remodel ground floor to accommodate a day-care facility.
Phase two: Remodel middle floor into a boarding house with dorm style rooms. New rooms would accommodate single women with children. Provide a day room and playroom.
Phase three: Add a swimming pool that would eventually be indoors. Landscape courtyard for weddings, reunions, etc.
Provide for Community:

Offer an opportunity for a small business (daycare center)
Proved jobs to the area
Increase clients for the clinic
Create recreation facility
Offer an environment for young women to become self-sufficient
Lift the burden from the hospital district of maintaining vacant property

The proposal would be for the property to the east and the building to the first fire wall in the oldest part of the building. The proposal from the Entwistle's is to purchase for $108,000 contingent on the sale of their property.
Questions that the district needs answered include property disposal requirements. Legal issues, zoning, etc. No further discussion at this time.
2. No executive session needed at this time.
3. MINUTES:
Resolution #1: Be it resolved that the Minutes of the June 2, 2004, special meeting be approved as presented.
Bob Wilson motioned and Dave Bristol seconded. Motion carried unanimously.
4. CLINIC CONSULTANT REPORT presented by Deb Johns.
HIPAA: Effective June 1 claims not sent through a clearing house will not be processed. MMC is using a clearing house which has increased claim processing costs. MMC's compliance with the 2006 requirement for security is in place.
WinASAP: The Medicaid program currently in place to verify eligibility for all Medicaid clients for every visit is changing in the next 90 days from WinASAP to a Gateway system. At that time the medical clinic will no longer be able to verify eligibility and MMC will verify eligibility for all Medicaid visits.
RMHMO: June 1 fees increased for all E & M codes 1-15%. This increase will be retroactive to January 1 and a check will be sent and a check will be sent in the future.
2003 Withhelds: This month 52% of the 20% withheld in 2003 was received.
PacifiCare HMO: A new insurance product will be available to the western slope with lower premiums and better reimbursements than RMHMO.
Collections:

Private pay patients are still a problem and PVMC's private pay collections are worse than the other 30 clients at MMC.
Insurance collections are good and compare to MMC's other clients.
Parents are sending children in to be seen with no money for prescription payment.
Collection policies are in place and are being enforced at the time of service. This is an increasing problem.
Changes that can be made structurally in the clinic to increase collections need to be researched.

HMO insurance rates will be going up with the next renewal period. PVHD's renewal period is May 1, 2005.
HMO Class: There is a class on June 30th that Deb, Jessi and Sharon will be attending on how to "entice" Medicare clients to become HMO Medicare. PVMC would be reimbursed at a higher rate for HMO Medicare patients.
Financially: The bottom line in the clinic is to increase the number of patient visits to increase income.
5. NEW BUSINESS:
Mesa Clinic: Scott Rollins received a rural health care initiative grant letter from Tim Sarmo. Grants from $40,000 to $500,000 are available. A letter with an outline of the grant request must be received by August 2nd for review and approval for a full grant application. The Grant application is due October 1st. The project must be ready to begin within 9 months of acceptance and completed within 18 months.
Meetings: Changing the regular meeting night from Wednesday to another time more convenient for board members was discussed. Monday night seems to be a better for the current board of directors.
Resolution #2: Be it resolved that the Board of Directors change the regular meeting from the 3rd Wednesday to the 3rd Monday every month at 5:15PM.
Dave Bristol motioned and Bob Wilson seconded. Motion carried unanimously.
6. BUSINESS REPORT: Report presented by Sharon Hill.
May 2004



Charges
Write Offs Misc. Inc.
Gross profit
Operating Expense
Net Ordinary Income
Other Income/Exp
Net Income(Loss)
Clinic
$29,654.58
($5,636.29)
$24,018.29
($48,348.96)
($24,330.67)
$55,470.36
$31,139.69
Construction




$0.00




$14,100.00
$14,100.00
Administration
$1,129.00


$1,129.00
($15,785.78)
($14,656.78)
$15,294.25
$637.47
FIA
$5,200.00


$5,200.00
($118.91)
$5,081.09
$0.77
$5,081.86

Total

$35,983.58
($5,636.29)
$30,347.29
($64,253.65)
($33,906.36)
$84,865.38
$50,959.02
Resolution #3: Be it resolved that the Accounts Payable and Payroll Checks (#43080-43159) are approved.
Dave Bristol motioned and Bob Wilson seconded. Motion carried unanimously.
Resolution #4: Be it resolved that the Board of Directors approves the May write-offs: General Write/Offs $1526.51; Medicare $1175.76; Blue Cross/Blue Shield $226.65; HMO $226.61; Bad Debt $1530.33; Collection Charge $00; CCHP $-133.00; Medicaid $694.45; HMO Contingency $-125.98; Hill Burton $317.00; Courtesy Emp. W/O $.00; Error Correction $.00; State Compensation $197.96; Correct Charges MMC $.00; Physician Incentive $.00; Clean up by MMC $.00; Refunds to Patients $.00.
Bob Wilson motioned and Dave Bristol seconded. Motion carried unanimously.
Finance Committee Report: Committee met on June 15th and reviewed all of the reports. Areas to be researched for cuts in expense:

End the Verizon cell phone service @ $26.97 per month and cancel all extras on the A T & T service (phone only).
Sewer fees-Letter to the Town of Collbran Mayor and Administrator has been sent requesting summer sewer fees be adjusted to the average winter sewer rate. Sharon met with the mayor on the 14th and the matter will be looked into further to see what can be done for PVHD as well as all sewer users. This could potentially save $400 plus a month in the summer as sewer rates are based on water usage.
Pinnacol Insurance: Workman's comp rates were researched and discussed with Home Loan and the rate has been adjusted for the current number of employees. Our obligation for the year has been met.
Van: Is it practical to keep the van if it is only used once a month to pick up supplies? The insurance is around $2,000 plus tires, servicing, etc. Is there another use for the van that could benefit our community?
The committee will continue to review income and expenses and will also revise the budget as necessary to a more accurate picture of what should be happening. The committee liked having access to all entries regarding questions on specific to line items.

Report on meeting with Larry Jokerst on June 14th:

The March & April financial information received from Dr. Rollins has been reviewed.
A brief survey with the physicians has been completed.
Visited with the Business Coordinator and discussed the following areas:

Patient Volume: Needs increased
Charges for visits, pharmaceuticals, x-ray, procedures, durable medical equipment, etc. will be reviewed and compared to other primary practices
PVMC is no different than many rural communities

A meeting with Debbie Johns will be set
A meeting with Helen Spence will be set
A tentative meeting with Jessi Clark on June 30th at 10:30 was set, Jessi will confirm
Claim payment turn around time was reviewed and found to be very good
Accounts Receivable are approximately 45 days of charges
A written report will be done and included in the July board meeting packet
Larry Jokerst will present a report at the July board meeting and will be notified of the change in meeting night from Wednesday to Monday the 19th

Rental Space: The same with one exception, the room the artist rented is vacant.
501 (c) (3) application: Sent. A letter has been received stating it was being reviewed and would take approximately 120 days for a reply, if no additional information was needed. Otherwise, the information would be requested and it would go before another person for review.
Overtime Workshop: Attended meeting last week. The information presented showed we are all non-exempt employees complying with all of the Department of Labor Overtime regulations. Regulations for exempt employees are many and difficult to document. The recommendation is to stay with all non-exempt employees and non-exempt professional staff, i.e., physicians. Dr. Woodyard asked for the definition of exempt and non-exempt employees and professional staff. Abbreviated definition: Exempt employees are those who are salaried or those who comp their time in lieu of overtime pay. Non-exempt employees are those who must comply with the overtime regulations and be paid overtime for hours in excess of 40 in a work week or 12 hours in a work day. There is a non-exempt professional staff status which includes employed physicians. Contract staff or staff paid by an agreement are exempt from the overtime regulations.
Board of Directors Workshop:

Annual management and investment reporting required under GASB 34 & 31. Sharon will have Mike Nelson assist with the reporting requirements.
Policy Review and Revision: Investment policy needs written. Record retention policy needs reviewed with an official custodian appointed and the record retention schedule revised which would include how records are to be destroyed.
Board Agendas:

Items that come up—add to future agendas
Agenda needs to follow outline—information needs to be given to the board ahead for review prior to meeting
New items can be given to the board to be reviewed and discussed at the next meeting.
Procedure—every board member will be heard and every board member will agree to disagree amiably.

Board of Directors Manuals will be up-dated to include:

Current Board Member Manual from the Special Districts Association
Board Duties
Code of Conduct
Up-date all other information
Other information deemed appropriate to be an informed board member
When manuals are complete need to have a workshop to go through the manual

Business Coordinator Job Description: Revised to exclude Assisted Living and change resident to patient
Service Plan: Needs reviewed to discuss at the next meeting. Service Plan discussion will be added to the Special Meeting agenda on July 12 from 5:00 pm to 6:30 pm.
7. FAITH IN ACTION: Report given Vicki Benning.
Preparations are being made for the volunteer appreciation day lunch on June 22nd. All volunteers have been invited to the lunch and a small gift of appreciation will be given to Gene Mack along with a "Big Thank You" for his help and dedication to the Faith in Action program.
The yard sale is set for July 4th and 5th. There are a lot of items for sale and if all goes as planned it should be a success.
Faith in Action board meetings will resume in September after a summer break. A board member will need to be appointed due to Gene Mack leaving.
The next fund raising project will be at Powderhorn during ski season.
May Stats: A total of 10 people were served by 44 volunteers who provided 100 hrs of service and 950 miles. There are 7 coalition members.
8. ENVIRONMENTAL SERVICES: Report given by Sharon Hill in Rene Castillo's absence.
Dave Bristol reported that Les Smith will be here on Thursday, June 17th, for a walk through with Rene and Dave.
Sprinkler Recall: A letter was received regarding recalled sprinkler heads. Rene inspected all sprinklers and none of the ones in-house have been recalled.
AC Units: The clinic air conditioning units have been installed and are working great.
9. CLINIC REPORT:
| | | | | | | |
| --- | --- | --- | --- | --- | --- | --- |
| | Jan | Feb | Mar | Apr | May | Year-To-Date |
| Total Dr Appt | 271 | 283 | 292 | 266 | 267 | 1379 |
| # Days | 21 | 20 | 22.5 | 21 | 20 | 104.5 |
| Ave/Day | 12.9 | 14.15 | 12.98 | 12.67 | 13.35 | 13.20 |
| Lab/Inj | 77 | 85 | 77 | 68 | 79 | 386 |
| Pharm | 24 | 41 | 24 | 36 | 20 | 145 |
| AH Pharm | 6 | 0 | 1 | 1 | 6 | 14 |
| After Hours | 10 | 10 | 9 | 23 | 18 | 70 |
| Other | 19 | 25 | 20 | 18 | 24 | 106 |
| Paged Calls | 256 | 170 | 193 | 260 | | 879 |
| Mesa Clinic Dr | 0 | 7 | 16 | 18 | 7 | 48 |
| Mesa Clinic Nu | 0 | 1 | 2 | 1 | 3 | 7 |
| Mesa New Pt | | | | 0 | 0 | 0 |
| Clinic New Pt | | | | | 7 | 7 |

New Mesa patients are coming to the Collbran clinic knowing there will be a Mesa Clinic. It should also be noted that the number of paged calls reported has been changed to a more accurate figure. Each contact is counted by Mountain Message and Paging service-on average there are 3 counted for each patient encounter, i.e., patient to service, service to physician and service back to patient resulting in 1/3 the number of paged calls previously reported.
Physician Report: See Old Business-Mesa Clinic; New Business: Grants.
Marketing & Legislative/Regulatory Up-dates: Jessi reported no changes.
10. ENERGY IMPACT GRANT
Electronic Medical Records (EMR): The physicians have looked at 4 programs and will research 2 more before making a decision on a program to be used.
The Clinic interior and exterior renovation as well as x-ray machine, processor and darkroom were discussed. The consensus is that the construction committee needs to meet prior to the next special meeting on July 12th to begin the planning stages and architectural design modifications. The committee members will be contacted-Frank Wagner, Jessi Clark, Rene Castillo and the physicians to set a date.
11. JUNE EVALUATION(S) / RAISES(S):
Annual: None
3 Month: None
Meeting adjourned at 19:16 PM.
Respectfully submitted by,
Sharon Hill, Secretary